Description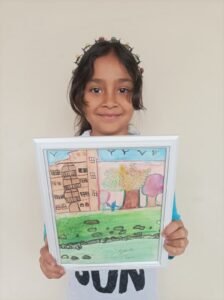 Ivana is 9 years old and attends the Bright Gems program of the Fundación Nur.
The work was done in art classes for at-risk children taught by Argentine artist Nela Navarrine. The inspiration for this activity was the beautiful Cuenca.
Ivanna knew how to correctly use colors to locate the objects that were seen in both the foreground and background of her painting.
She was able to mark the limits between zones and use multiple colors to bring more interest to her work.
I love the rocks, trees, and birds!