Description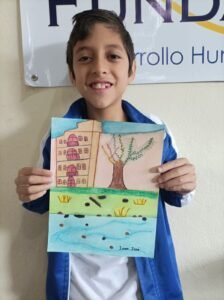 Juan Jose is 10 years old and attends the Bright Gems program of the Fundación Nur.
The work was done in art classes for at-risk children taught by Argentine artist Nela Navarrine.
The inspiration for this activity was the beautiful Cuenca.
Juan José stands out for his use of colors.
He achieves a very interesting aesthetic with vivid and captivating colors.
His works are very neat and detailed. He concentrates a lot while painting and that gives him excellent results.
Juan Jose, I love the building!