Description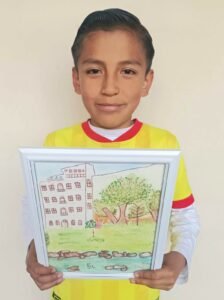 Alessandro is 9 years old and attends the Bright Gems program of the Fundación Nur.
The work was done in art classes for at-risk children taught by Argentine artist Nela Navarrine.
The inspiration for this activity was the beautiful Cuenca.
Alessandro achieved a neat and beautiful work.
He observed the details and captured them in his work with total precision.
He complemented his work with trees that he created himself.
He achieved a harmonious and attractive work for the eye. Beautiful work!