Description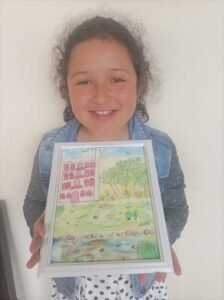 Lusney is 9 years old and attends the Bright Gems program of the Fundación Nur.
The work was done in art classes for at-risk children taught by Argentinian artist Nela Navarrine. The inspiration for this activity was the beautiful Cuenca.
Lusney is an impressionist artist. She likes to shape her works with brushstrokes of colors.
Her work conveys joy and a lot of positive energy. The combination of colors is also remarkable.
Very beautiful tree and flowers!