Description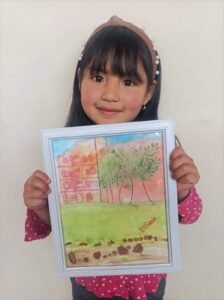 Briana is 5 years old and attends the Bright Gems program of the Fundación Nur.
The work was done in art classes for at-risk children taught by Argentine artist Nela Navarrine.
The inspiration for this activity was the beautiful Cuenca.
Briana is an artist who uses colors very well.
She knows how to give movement to his work using brushstrokes with different tones.
The variety of leaves on the tree is very interesting.
Congratulations on the beautiful colors you used Briana!